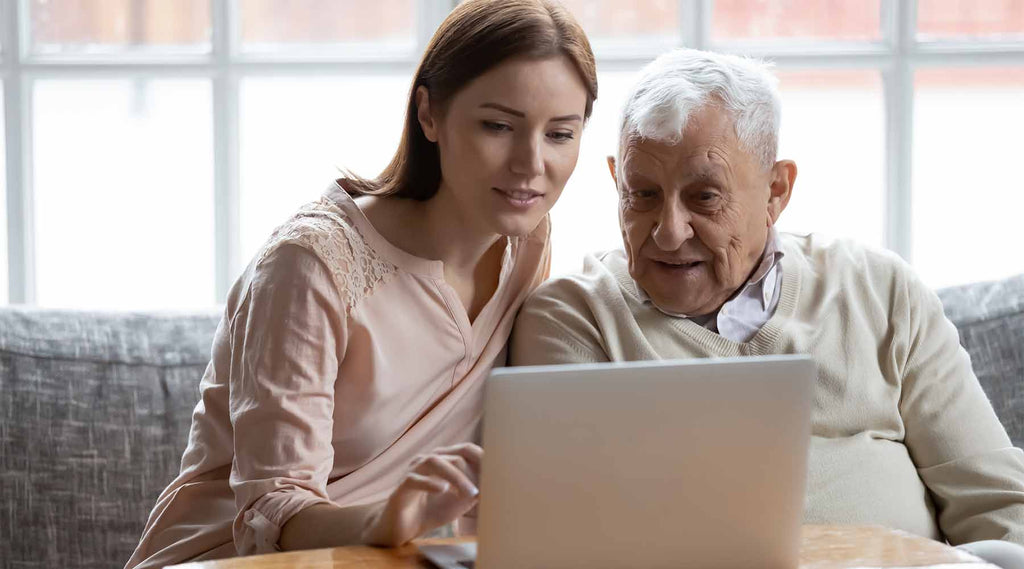 We have talked about using computers as a stimulating activity for people with dementia in our recent articles on dementia "Computers and Dementia", and we have a provided a list of apps that we find effective in the Learning Center article "Windows Computer Apps for Dementia".
We recently came across a dementia specific study done by the University of Arkansas for Medical Sciences that took a closer look at using computers for de mentia memory care residents in long term care facilities. They selected 14 residents over 65 years of age and with a diagnosis of dementia from three facilities and offered them a 12 week program to engage in computer activity for up to 30 minutes per day, 5 days a week (see "Feasibility of providing computer activities for nursing home residents with dementia").
To prepare for the study,
Appropriate computer activities were selected and loaded onto the computer.
A thumbnail-style activity menu was setup that showed the names of the activities and large visual icons to make it easy for the participants to select the activity
Each participant attended two 30 minute orientation sessions to familiarize them with the activity menu, adaptive accessories such as the trackball and touch screen and to give them a chance to try out a computer activity
In addition, at each session an assistant turned on the computer and set up all of the equipment. The assistant helped the participant choose an activity and helped them with the activity as needed.
The results of the study showed that "While our sample was small, the findings suggest that computer activities may meet needs for enjoyment and stimulation in elders who have limited activity opportunities and are under-stimulated."
The bottom line is that while computer activities can be an effective way to engage someone with dementia, before investing in a computer and a desk, there needs to be a plan in place. You can't just put a computer on a table, plug it in and expect that residents with dementia will be able to make use of the investment. The computer needs to be set up with programs that are appropriate and can be accessed from a menu that is easy to use when dealing with dementia patients. Each potential participant needs to be "trained" on the use of the computer, how to choose an activity and how to use the activity.
Once all that is in place, the most important aspect is that someone, be it a staff member, family or volunteer has to be available when the person wants to use the computer to set up the activity and be available to offer technical support throughout the activity.
While the study did show success with this careful preparation and presentation, it seems that the limited resources (of both time and money) available in most facilities could be more effectively used in other, less resource intensive ways to meaningfully engage the dementia patients. If you already have a computer for resident use, some ways that you can use it effectively include:
Ensure that you have any necessary adaptive devices available and installed
Choose and install appropriate apps such as those suggested in the study or in our article "Windows Computer Apps for Dementia"
Set up an individual menu for each resident with the apps that they prefer, including both the name of the app and a visual icon to make it easy for them to make their choice
Train volunteers to help assist the residents in 

dementia long term care facilities