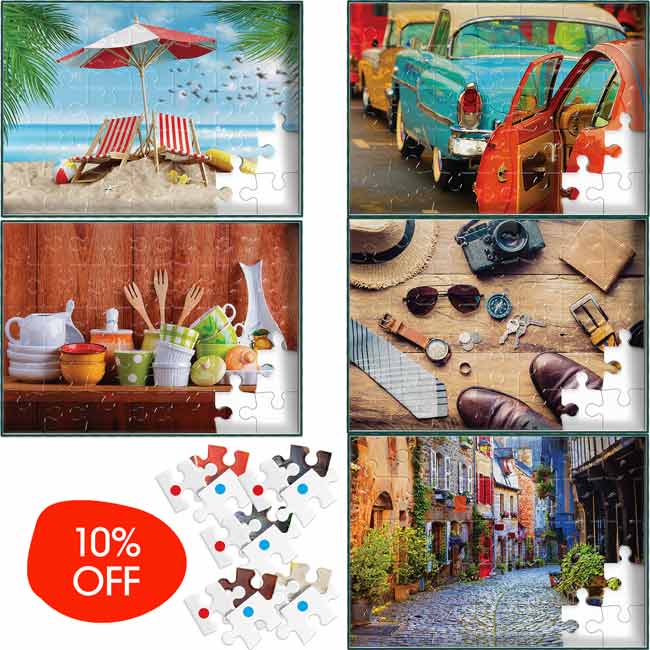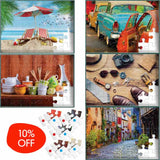 The Puzzler's Bundle
Unlock the potential with The Puzzler's Bundle, a delightful set of five 35-piece puzzles crafted especially for those with dementia and Alzheimer's. Featuring vibrant, detailed images, these puzzles inspire joy and engagement, with a 10% discount just for you. Enjoy The Beachfront
 Puzzle
, Hot Rod Show
 Puzzle, Town in Color Puzzle, Travel Accessories Puzzle
 and Kitchen Utensils
 Puzzle
 to spark curiosity and connection. Engage and connect with The Puzzler's Bundle today.
The Details

The Keeping Busy sequenced jigsaw offers a unique way to allow puzzle lovers to continue to enjoy a favorite pastime while both exercising their cognitive abilities and encouraging social interaction and conversation.

Unique color sequencing guidance helps people with dementia who find puzzles too challenging to complete the puzzle successfully.

Allows the person to regain a sense of satisfaction and accomplishment from completing the puzzle.

Package includes the color-coded puzzle, a picture of the completed image, and detailed instructions, all in a durable box.

The packaging does not include any mention of dementia or Alzheimer's so that you can give to an elderly loved one with confidence.

How to Use

Start by offering the pieces from only one bag at a time. If the player finds this too easy, increase the challenge by offering the pieces from more than one bag. With a little guidance, a person with dementia or Alzheimer's can complete the puzzle on their own leading to a sense of pride and accomplishment.

Most people start a puzzle by completing the border first, and that's how we do it. Starting with the first bag, the player can work on the top border.

Once that is complete, the pieces in each of the next three bags are used (one at a time) to complete the rest of the border.

The pieces in the last two bags are used to finish the puzzle.

Once completed, the final step is for the player to take the puzzle apart and sort the pieces back into the color-coded bags.
The Puzzler's Bundle
Our 35 Piece Jigsaw Puzzles are designed to be age-appropriate for elderly people living with memory-related conditions. Every game includes 35 large pieces to encourage engagement and gently exercise the mind.
HIGH-QUALITY
MATERIALS
JIGSAW
DESIGN
VIVID
COLORS
DETAILED
INSTRUCTIONS
GIFT
WORTHY